Alicia Gordon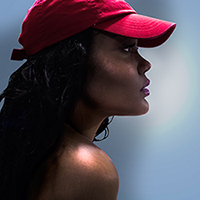 (: aliciagordon2015@fau.edu :)
In 1996, the coconut oil infused
island of Jamaica produced the
one you will know as, me, Alicia.
Happy and free to draw and paint
the world as my imagination sees
it, I drank my freshly mixed reggae
medley juices and drew inpiration
from our hill top view of downtown.
In the later half of my childhood,
I sadly found myself surrounded by
disengaged communities, lowered
morale, and materialism. I found
myself in a new country with new
technologies I could once only
dream to exist. Upon adaptation,
I enriched my need to understand
with a given gift of a laptop. With
new surroundings and diverse ways
of life choking me to assimliate, I
grew isolated. So, with my laptop,
I created a world of my own. With,
a free download of Paint.net, my art
found its beginning to a limitless
world known by the name of digital
art and now continuing to blossom
one design at a time.
I recieved my Associates at The
Florida State University in 2015.
However, the city's atmosphere, or
lack thereof persuaded me to come
back down south to Broward County.
Currently, I am a Graphic Design
student at The Florida Atlantic
University and entering my sixth
year as a Nail Technician, currently
at Eden Day Spa in East Boca Raton.
Whether its designing a flyer or banner,
perfectly polishing and designing a nail,
snapping a picture or sketching a
portrait, you can be sure you'll find a
tool at my fingertips, eager to create.
Skills
Adobe Illustrator
Adobe PhotoShop
Adobe InDesign
Portrait Drawing
Creative Writing